Hello lovely ladies at TPF. First time posting a thread!
I was very lucky to score this vintage Fendi briefcase at my local Goodwill store ($24.99 can you believe it?).
Upon scathing the internet it seems to be circa 1970 (
http://donya-patrice.com/2013/08/the-fendi-briefcase/
,
http://www.farfetch.com/ca/shopping/men/fendi-vintage-monogram-briefcase-item-10464746.aspx
)
1. With its age it does have some small nicks here and there in the PVC/Leather edging. How does one tidy those up? (Pictured below)
2. Once opened, the briefcase has a musty "old" smell, similar to that of your parents damp basement. Is there something I can put inside to clear that smell?
3. There is a small sticky spot on the fabric siding (not pictured). I tried water and a paper towel gently to buff it out but it seems fairly sticky. Any suggestions? Would also like to give it a quick clean in general.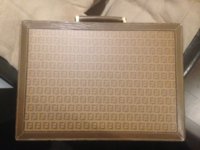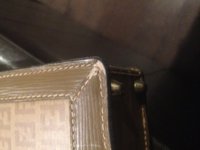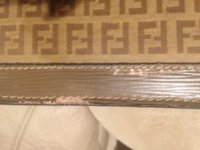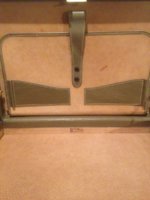 Last edited: