Hi, everyone, I have a really hard time to decide btw 2 bags. both are large size.
I would like a bag that I can carry to school (college above).
Which one would you recommend, and if you can give me reasons, that will be awesome!
Proenza Schouler PS1 yellow large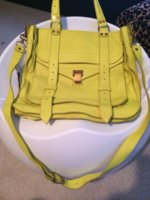 Philip lim pashli crimson large
Thank!!