Hi I store my pearl earrings in the black velvety fabric storage and box that comes with the purchase. But after a few years of storing it, I found the velvet fabric has disintegrated and started to peel and stick onto the pearls.
The similar velvet dustbag was used to store SLG and one of my older ones has started to turn moldy and peeling off as well. I stay in a humid climate and store these in air con room. None of my other branded bag dust bags or storage has given this problem except Chanel.
And I have another pearl necklace (second photo)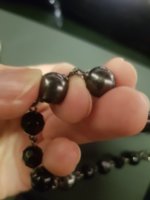 which is resting on this velvet storage has multiple spots on the pearls and the outer coating started to peel as well as I try to rub off the fabric.
What is frustrating is these pearls are store bought and authentic but it has been a couple of years I have had them. Can I go back to the store to file a complaint against their storage fabric?