Welp, I guess it's off to Ban Island for me after this (is it like Survivor with cuter outfits?). Once the price increase was announced, I knew I needed to finish my classics collection sooner rather than later and I asked TPF for your advice on what would best complete my collection. After two weeks of nail biting, fighting with FedEx in TWO cities, and trekking down two dozen storeys during a flood in my building the day of delivery to ensure this baby would NOT be delayed any further getting into my hot little hands, I present to you...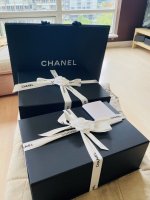 ...
my 20S red medium/large lambskin CF
! I'm absolutely in love. It's the perfect red in my opinion, not too brown, not too orange, not too dark, not too pink, just the most perfect, purest red possible. Thanks to
@jtothelo
for all her glorious photos of the 20S red. Seriously, no lighting does it justice!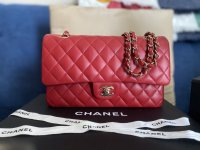 ...And THEN! Just when I had thought I'd achieved purse peace, my amazing SA / devil on my shoulder asked if there was anything else I wanted. I said, "Nah, I think I'm gonna save for a Trendy later on this year if the prices aren't going to go up." She sent me a red Trendy to tempt me and I politely (secretly smugly) was so relieved to easily say no thank you, since I was already getting another red bag. I told her "there's a very specific light blue color..." (which I'd been coveting from
@Venessa84
for the past two months) "...that I doubt you guys have." My SA (aka cruel mistress aka the wallet monster) went, "Oh
really
...? And also, the prices
are
going up but I could sell this to you at the previous price..."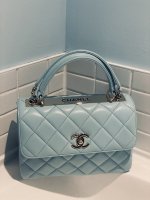 So now I present to you my TWO new additions to the family -
Catherine Zeta-Jones
(the star who can pull off red the best!) and (20P) Tiffany blue
Audrey
.
Thanks for letting me share! Off to find a Covid-free cruise to Ban Island...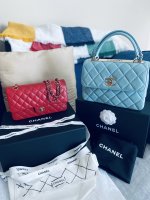 Last edited: