So I'm trying to decide between a black Prada Saffiano tote (medium or small size) or a Dolce & Gabbana Miss Sicily black handbag (likely also medium). Which one do you think is better? They are roughly the same price.
I want this bag to be an every day bag...every day for me also means that it's a work bag and also means I'd like it to be somewhat day to night versatile for nights out after work!
Please weigh in

I believe there is a Dolce & Gabbana store set to open in Toronto at some point so until then I can't really check this bag out in person so if anyone has it and can share pictures or a review, that would be awesome! Thanks.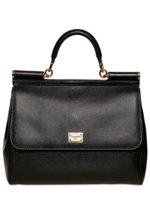 And there is a slightly different version of this on Net-a-porter:
http://www.net-a-porter.com/product/349756
And here is the Prada...