Hi all,
Long time reader, first time post.
Just wanted to vent about the bad service I received from Prada today.
I ordered the 2005 re-edition in black and as I live in Melbourne (currently in lockdown), I had to order the bag online.
The bag didn't come with a box and I asked for one and they blatantly lied and said none of their bags come with boxes.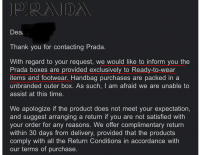 I even sent through pictures of my small black saffiano bought in-store at Prada in its box. My friend also bought the 2000 re-edition last week in-store and got a box.
I'll be returning the bag as it's not my dream bag and I can live without it, but still shocked at the poor service.
Anyone else have any horror Prada service stories?
xx