The Fairy line was whimsical...these are just very odd, IMO!
And $3,950 for the satchel, $2,800 for the shoulder bag!!!
http://www.neimanmarcus.com/Prada-Saffiano-Print-Satchel-Bag-Purple-Black-Handbags/prod166510193_cat14860749_cat43240884_/p.prod?isEditorial=false&index=0&cmCat=cat000000cat13030735cat44690739cat43240884cat14860749
Prada girl-print saffiano satchel bag.
Shiny silver hardware.
Tote handles with rings, 4 1/2" drop.
Double turn-locks secure folded top.
Double-gusset sides; structured shape.
Soft napa leather lines divided interior.
Inside, one zip, one snap, and two open pockets.
8"H x 10 3/4"W x 4 1/2"D.
Bag weighs approx. 2lbs.
Made in Italy
.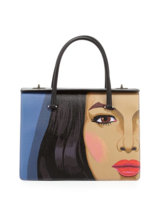 This one is a bit more interesting: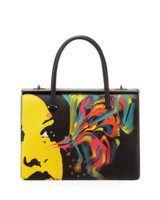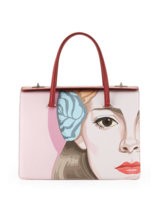 Shoulder: