"We're all born naked and the rest is drag" RUPAUL
O.G.
I stole the title from Peggle (thank you lady) -
I love Orange it is my most loved color and so hard to find the right shade.. here are my two lovely
Coach
Orange bags.
Ergo Shoulder bag with the amazing Orange accessores... The wristlet that has tattersall lining was a RAOK in gift... (thank you I love it..)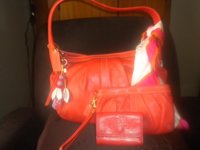 My Melon Peyton got it the second I saw her on tPF...