Hi, now I really feel like I must be paranoid! So please prove me wrong!
I just bought a lilac pont neuf off
ebay
, and am loving it. But there're these stitches located at bottom of the outside flap compartment. They are kind of messy...sort of overlap each other?
i hope I'm making myself clear. Well, here's a picture of how the stiches look like. Is that normal? I mean, I understand that's a spot where leather is thick...but... Please verify for me?!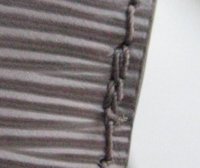 MANY THANKS!!!