Hi Ladies, I posted this question a few months ago when I was putting down a deposit for this watch. Thank you so much to everyone that has chimed in. Now comes the time to make a final decision. My lovely SA sent me both watches to check out in person. While I love both, I'm more inclined toward the classic night/white gold version. I'm posting both watches on my wrist. Please let know your thoughts! TIA!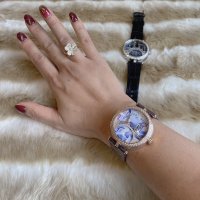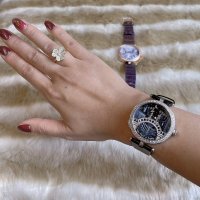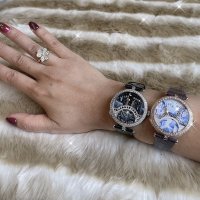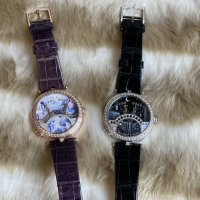 ==== previous post ====
Ever since I started collecting Van Cleef more than 10 years ago, the Pont des Amoureaux watch has been one of my holy grails. I tried on the white gold night version years ago but couldn't afford to pull the trigger back then. Now with the upcoming price increase, I'm seriously considering getting it, but the problem is that I don't have a local VCA boutique anymore and I can't decide if i should get the new pink gold day version or the classic white gold night version. I'm usually pretty sure of what I want/like and what suits me better, so this is very unusual for me and for such a big purchase, I don't like the feeling of uncertainty...
I'm mostly a gold/pink gold person, and the majority of my jewelry and watches are gold/pink gold except a few pieces where white gold is the only option availaboe. Almost all of my hermes/chanel bags are with gold or pink gold hardware. Bags with PHW just don't look right on me.
Also, purple is one of my favorite colors. So when I saw VCA came out with the pink gold day version of the iconic Pont des Amoureaux watch with purple dial and purple alligator straps, I thought that this is the watch for me.
However, the more I look at the two versions side by side, the more I'm drawn toward the classic white gold night version. I don't know why and I can't quite explain my thought process. And the fact that I haven't even seen the pink gold version in person or tried it on is making me having even more doubts.
Any suggestions or comments would be appreciated. I definitely don't want to commit to such a big purchase without being certain. TIA!
Last edited: