Instagram @thediarentist
O.G.
Nov 23, 2009
6,511
12,677
Hi!
I am planning my next purchase which will most likely be an old medium Boy bag in black with silver/ruthenium hardware..
I don't plan to purchase now and it will be some time in the next few months.
Choices are:
Black with ruthenium.
Black with shiny silver hardware.
The only black with silver hardware available now is in the chevron pattern but it might not be available when I decide to purchase and I would totally consider a quilted with shiny silver hardware if that was released then, so
the decision is mainly about the hardware not the pattern.
Here is my current collection for reference:
Hello CHANEL lovers! Allow me to share with you my very precious collection :) I hope you don't mind me starting a thread for this, but I'm sure all of you CHANEL lovers would understand :) I started back in 2011 with my black jumbo (was less than 4K back then) until my recent (last atleast...

forum.purseblog.com
Which one do you prefer and why?
Photos are for reference only and credit goes to owners on Instagram: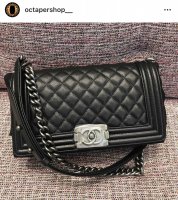 Just for fun: I am already leaning towards one of them, can you guess? Maybe those who have been reading my posts/comments/preference can guess?