Hi all,
I pulled out my Alexander McQueen Padlock the other day to find a horrifying mark on it - I assumed it was mud, but after cleaning twice it didn't budge and actually looks as if someone has split a hot drink or something over it and it's stained/burnt the leather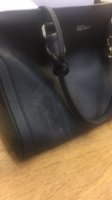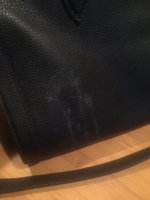 (Sorry for the huge photo it's off my phone!)
So, I got some leather balm which has beeswax from a lovely dept store here in the UK (John Lewis!) and it seems to have done a really good job on some of the parts but there are two stubborn bits that no matter how much balm I massage in it just seems to dry out or come back after a day or two

Does anyone know of any polish I could put onto the smaller bits to disguise it? I don't want to put any old polish and ruin it, even though I'd test it on the bottom. If it's not worth the risk, then it's so much better than it was so I can deal with it but I would be so made up if I could get it looking back to normal!
Thanks in advance xxx