Dear all, my milestone birthday is approaching, and I am thinking about getting a piece of jewelry to celebrate. Have been browsing and finally come down to three options. All of them are right on my budgets, and adorable for different reasons. Really cannot decide...Please share your thoughts! Any suggestions other than the options are welcome too. Thx!
1. Cartier LOVE BRACELET, SMALL MODEL, PAVÉ
This piece is so classic and will never go wrong. Plus, it goes well with my Juste un clou bracelet (with diamonds). These two will make a perfect stack!

2. VCA Two Butterfly Between the Finger ring, White Gold
This one is so gorgeous and iconic. But I feel it may be too delicate for casual wears, and I am not sure whether I will still love it 10~20 years from now...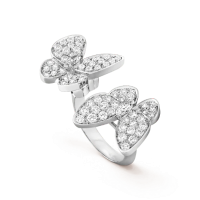 3. Chaumet Josephine Bracelet
I am a big fan of Chaumet Josephine. My engagement ring/band is from this collection. So I guess I can add a bracelet to my jewelry box. But the downside is there are no retailers within US, and don't think we can travel to Europe in the near future due to Covid-19...