Hi everyone! I'm trying to pick my first wedge sneaker. I can only get one right now and it's between black and olive. Both come with matching laces AND the contrasting laces shown in the pics. So they can both be monochromatic. They are basically the same shoe.
I will wear them with dark blue, light blue and black jeans.
If they came in dark brown, I would choose those. But they don't come in dark brown right now.
Here is the black: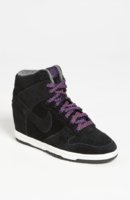 I'll attach the other color in a second post.