Hi all!
I'm looking for a new wallet. I've been checking out some other brands, but then Tory Burch popped into my lap in my price range. I never even though to look at Tory Burch, but I've always wanted to own a clutch or the classic flats, and now that I need a wallet, this seems perfect.
I really do love the Zippy style, so that's what I went for when choosing with styles I liked. I would ideally love to wear this as a clutch for evenings out and be able to slip my iPhone 4S (case-less if need be) inside. Is this possible with these wallets or do I need to look for something bigger?
Here are my choices.
1. Leather Continental Zip Wallet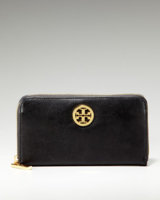 2. Amanda Continental Zip Wallet
Is the first classier? Is the first too plain? Is the second too casual for my purposes? I just want to make the right decision and like what I've chosen!
Thanks for the help!