Hi Fendi lovers, I am in need of your advice.
So I've always loved the peekaboo, but one just has completely caught me off guard and I'm obsessing over it, first of all I HATE snakes and the idea of snakeskin creeped me out so much. But for some reason I just adore this bag! I'll hopefully insert a picture round about here.....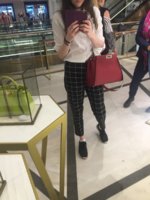 . The thing that I'm not obsessing over is the price, at £3220 it's WAAAAY more than I considered spending on a seasonal style that's not Chanel, (which tend to hold their value) also although I love it now I'm not sure how I'd feel in 5-10 years time.
Also I can only buy 1 maybe 2 bags a year at a push.
It's between this peekaboo a Chanel classic flap black with gold hw, or a boy bag. What do you guys think?