Hello all! I hope you're having a fabulous weekend! I went on a HUGE shopping spree this past week, and I managed to purchase my very first Peek-a-Boo before the price increase! I am in absolute love with this handbag. It has been my dream bag for a very long time, and I cannot believe I finally have it! Without further delay, here is my new baby:
My haul; lots of magenta shopping bags!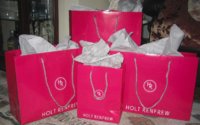 Here is a little tease...