Hey ladies,
I had a wonderful time last night shopping with another tPFer who was kind enough to let me get in on her PCE.
So if you remember, my DH bought me the sparkle leather Poppy for Valentine's Day: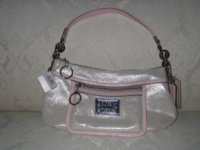 Well I never used it because I was SOOOO worried about it getting dirty. Last night at the store I checked a few pieces that were in this material, and there were tiny spots on them that looked like they would not come out. So somewhat reluctantly I decided to get the black one instead (didn't like any of the other colors). I thought it looked EXTREMELY boring at first, but I tried dressing it up with a couple of scarves, and that did make it look cuter. No doubt it will get used, and it seems bulletproof in terms of seeing marks or color transfer.
I was thinking of maybe exchanging the wallet for the all leather version, but I'm not totally sure - what do you guys think? They didn't have any at the store last night, it would have to be ordered.
Anyway, here and the latest PCE pics (and the Kristin I got at 40% off on Tuesday again):