Hello everyone

I would like to have your opinions as I appreciate the contributors in this blog a lot!
I initially bought a DBTY necklace in RG size 0.1, from the store.
After a while, the curiousness kicked me and I ordered online a DBTY necklace in RG, size 0.14, just to see how it looks like.
And yes, the inevitable happened and I fell in love with it

Now I wonder what to do...
I obviously cannot return the small one as I have worn it.
On top of it all, I happened to buy them before the price increase! (I am from Europe).
What is your opinion in this?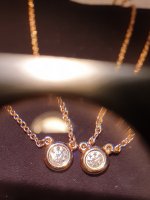 Last edited: