Ladies, I need your opinions plsease.
I am 43 yrs old and I love this Mango jacket. The truth is I think I can not pull it off, I fhink i am to old for it.
I normally live in skinny jeans and some jacket or just A&F hoodie..
I already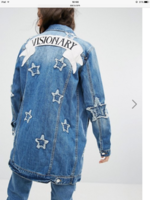 bough this jacket 3x and always returned even my friend said its a proper circus jacket and looks absolutely terrible.( she did not see it personaly) Now I bough it for the fourth time.