Hi guys!
I'm always very excited when a new high end 'maroquinier' opens his doors. But I never been so excited! Sadly I'm very busy with school, work etc. So I cannot just go to the store, since there is only one and that one is located in Paris. (600 km away)
So the brand is called Faure le Page, it was from origin a armorer and was established in 1717! They did make some leather goods, but they were for storing guns. I heard something about a ex top-man from Dior that revived FLP, but I'm not sure. They opened their doors about 4 months ago and they are located at Rue Cambon 21 in Paris (France).
Their monogram line is inspired by the pattern of their old products. It comes in four colors, grey, green, brown and blue.

Anyone been to the Faure le Page store? I'm going this summer, I have to be patient.
I found some images, starting with their store.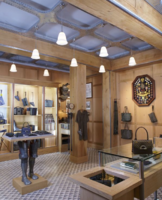 They still have a lot of weapons and knights as decoration!
Now I wil show you some of their products. I only now the prices of a few of them:
This tote bag looks similar to the LV Neverfull, but it is definitely different. Look at the second and third picture for details. The bag on the 2nd and 3rd picture is the largest size in grey, and is priced at €590.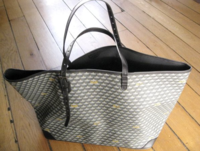 (from
http://brieuc75.typepad.fr
)
Some other products
Priced at around €100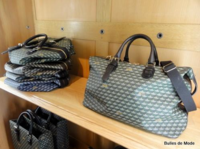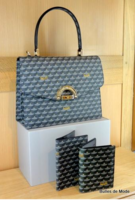 (from:
http://www.lenuance.com
)
Sadly don't know the prices of the last three products.
I'm updating this thread with pictures prices and more information!
Last edited: