Tomorow morning (Sept 22, 2020) at 9 am EST,
Coach
will debut portraits of friends, collaborators, and models by Juergen Teller in a digital experience that will showcase Vevers's spring 2021 collection styled together with pieces from his past work at Coach and items from the brand's archives.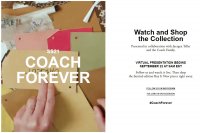 Aptly titled "Coach Forever," by styling a new collection in the language of past seasons and Coach's heritage, Stuart Vevers is plotting a more sustainable future, one with fewer products that live seamlessly with extant ones.
Some of the items worn in Teller's images are also being made in collaboration with local artisans in New York. "It's a really eclectic mix of ready-to-wear and leather goods that we've approached local artisans and local makers to produce.
Those limited run pieces that will be available when the collection is released," Vevers says. "It feels like a way to give back to our fashion community—and I hope these relationships will continue. This is an opportunity to highlight them and their work just so other people can find them too."
Sources: VOGUE.com, Coach.com