Thank you for all of this! I had fun looking through the pics and reading your comparisons.
Not a big fan of the shoes. The cabats are beautiful.
Is this the "new" red coming out?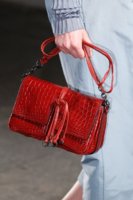 This caught my eye. Of course I will have to hope to get lucky a few years from now that it goes on sale or goes to an outlet.