Coach, Dooney, Uggs
Authenticator
O.G.
Feb 25, 2007
49,555
21,389
I'm no longer getting email notifications - "New reply to watched thread" for the last several days.
I haven't changed anything in my settings (that I'm aware of) and the threads still give me the option to "unwatch" so my inference is that I'm still watching.
What happened?
Thanks.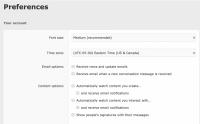 ETA: BTW, notifications aren't going to spam folder either.
Last edited: