Update to my previous post re getting the ZCP before price increase: It's already Monday here in Australia and the price is still unchanged! So I was able to secure the last noir emp ZCP at my local LV store and cancelled my phone order made on late Sunday afternoon since they hadn't processed it
Here are instant reveal and pics with my Infini speedy 25.
Note that the embossing result on the noir emp ZCP is a lot more puffy, interesting!
Thanks for letting me share.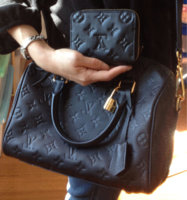 Last edited: