I wanted to share my horrible experience with the company
Shay Jewelry
The brand is sold in high-end stores like Neiman Marcus, Saks, Material Good, Broken English, etc and has been seen on celebs like Dua Lipa.
I have been a loyal customer of this brand for the past seven years, mostly without incident, although once I received a necklace with a pave pink sapphire missing. I wrote an email but ultimately decided against sending it in and just kept it as is, because I had a lot of other things going on at the time. Also, earlier this year I tried to sell a few items by this brand at a local jeweler, and was told the pave diamonds they use in their pieces are single cut (not brilliant cut) which greatly decreases their resell value.
In February of this year, I purchased a
15 ct "ready to ship" tennis bracelet
with F/G VS diamonds from Shay Jewelry for $39,000. This brand has some pieces that are already ready to ship, and some that they have to create for you which will take 4 - 6 weeks.
I received it and everything seemed fine, until I noticed in May (while comparing it against my new tennis bracelet from Whiteflash) that the diamonds were not the correct size.

They were supposed to be 0.4 ct each, and they were 0.27 ct. Meaning....Shay sent me their 10 ct tennis bracelet instead of their 15 ct bracelet.
I immediately opened a paypal complaint, and wrote an email. To my surprise, I got a near immediate response from Shay. They did not even ask for proof via pictures or anything. They agreed with me and admitted that they mistakenly sent me the wrong size and that it had been tagged wrong in their showroom. It sounded like they were already aware of it (which makes sense if they do regular accounting of their inventory), but were not going to say anything to me unless I noticed it. They offered to either refund me the difference which was around $6,000 or to send me the 15 ct bracelet that I had originally ordered if I sent them the 10 ct bracelet back.
While I was deciding which option to accept, I received another offer from them: a 16 ct G / VS bracelet for an additional $15,000 (a total price of $54,000) which they told me was a special deal, priced just for me. They said that it would only take them 10 days to make it, instead of the usual 4 - 6 weeks. I accepted, and sent the 10 ct bracelet back to them. At the same time, I also placed an order with them for a
18.5 ct "ready to ship" white gold tennis necklace
which cost $77,000 at the time (they have since reduced their prices - the same necklace now costs $71,680). They told me they would make me a brand new necklace, so everything would be perfect, and that it would be ready with the bracelet in 10 days.
After they received the 10 ct bracelet I had sent back, they asked me to close out the paypal claim, which I did.

DO NOT EVER DO THIS!!! Paypal does NOT let you reopen a closed claim, even if the seller never sends you the merchandise they agreed to send you. It was a huge red flag that they asked me to close out the claim so early on, but because I had been a customer of theirs for seven years, I agreed.
Ten days later, I received the bracelet and the necklace. The necklace seemed beautiful. However, the bracelet was not. The diamonds were yellow.
They were not G color diamonds - at least not G color diamonds by a trusted lab, like GIA or AGS. In my opinion they were K to M color. They were more yellow than the diamonds on the 10 ct bracelet I had sent back.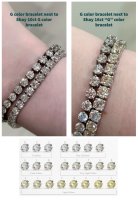 I immediately complained to Shay, and sent pictures. They apologized and sent me a return label. I had it shipped back to them the same day I received it. We discussed upgrading to colorless diamonds, but I received a quote for an additional $30,000 - $70,000 (a total price of $84,000 - $124,000) to upgrade to D - F color diamonds, which I refused. I even asked for the original 10 ct bracelet that I had returned to be sent back to me instead, and go with the initial offer of a partial refund. They said it had been sent to one of their stores, and was no longer available. They also told me that the 10 ct bracelet was F/G & SI1 - I3 clarity, which is not what I was told at the time of purchase (I was told it was F/G and VS). At this point, I decided I just wanted a full refund. They were reluctant to agree, and wanted to remake the bracelet for me, but I was insistent on a refund. Finally they agreed, and I received the refund via wire.
I noticed that the 16 ct custom bracelet they created and sold to me at a special reduced price just for me of $54,000 is now being sold on their website for $43,680.
https://shayjewelry.com/products/custom-diamond-tennis-bracelet-16cts?_pos=11&_sid=6345fee31&_ss=r

After all of that, everything seemed fine until a week later.
One week after I had received the tennis necklace, I was gently cleaning it with the cleaning solution and soft brush that they had included in my order. I had used the same cleaning solution and brush on other jewelry items of mine with no issue. After I had cleaned the tennis necklace, I noticed the white gold color had come off the necklace in four areas.

A total of 16 links had yellow/copper color showing. I did some research, and learned that the rhodium plating (all white gold is rhodium plated) had come off. Rhodium plating is not supposed to wear off within a week. It should take months to years. I have white gold jewelry that I have had for years that have never had any issues with the rhodium plating coming off.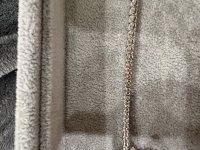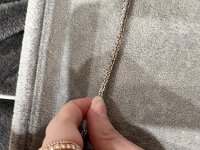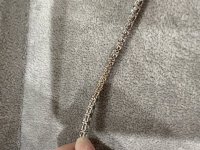 I complained via email and text, and sent pictures. They were shocked, and claimed they had never experienced anything like this before. They said that their jewelry is not plated. They initially wanted to remake the necklace for me, but agreed to refund me after I insisted.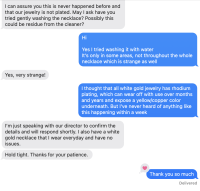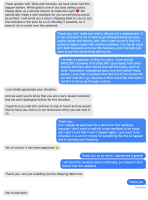 I sent the necklace back on Monday, they received it yesterday, and I reached out today asking if they needed my wire information again to process the refund, and they said no as they already had it. Then I received a text a few hours later saying that they did, in fact, need my wire information again
, which I proceeded to resend to them immediately.
Hopefully the refund will show up in my account by Friday, and then I can finally move on from this crazy experience!

Last edited: