Over Christmas I have been in the mood of finding a red bag. I have only one red Coach bag and wants to add a premium designer one to my collection, something classic in shape and style.
I was considering the Prada Saffiano double bag in fire engine red but then I checked BV outlet and fell in love with this one....
I don't know the name of the style but it is a simple China red tote....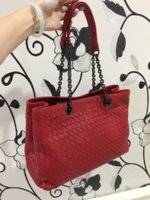 Feels very appropriately Chinese New Year and valentine at the same time...