Hi! I wanted to show you guys my new bag, from Vanessa Bruno, and haven't found a thread about her yet. I hope this is the right place for this?
You guys may already know Vanessa Bruno bags like the sequined totes (see here
http://www.vanessabruno.co.jp/shopping/list.asp
)
Well, I like her leather, less popular ones.
Here are official pics from her website (she's french but for some reason only has a japanese website)
Here it is in brown
The little accessories don't come with the bag, you have to buy them seperately... I didn't but they're cute!
And now some pics I took of my own bag. It's in super soft black leather, I love the texture! As some of you remember I was looking for a rich leather bag to take the place of my Gerard darel Charlotte which I sold on ebay (too many girls carrying it in Paris).
Ok, the pics! You can click on them to enlarge them.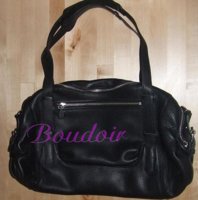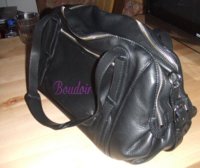 Voila.. I hope you guys like it!

ETA: its name is the BOLERO, and I paid 240 euros... sorry i forgot to mention that