Hi, I just became a member of purse blog - what a great idea for bag lovers!
I really like the
Coach
Signature Gallery Tote, but I can't seem to decide on which colour scheme is better:
the brass/khaki/camel: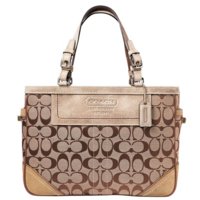 or the brass/khaki/dark brown:
I'll be using this tote for work, and want something that's relatively versatile that will match most colours and work for all four seasons, but not plain black. Also, my bf is getting this for me for Christmas, so i really want something that I will use a lot to show my appreciation.
Any help would be great.....thks