I've seen the reveal posts and I was just so excited to do it, too!
This is my new to me Limited Edition Louis Vuitton Trunks Pouch.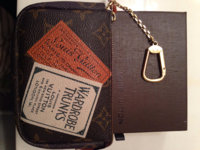 I do love this style but I will say that I love the EPI design/look so much more, I may be selling this because my heart is still set on anything EPI. For now, though, this beauty is my favorite
.

Post your New to You goodies here if you'd like, I love to see everyone's finds.