Happy Saturday all

I recently got the beautiful Speedy B25 & decided to treat/protect my vachetta this time. My last Speedy (classic 35) was my first Mono-vachetta bag, which I had left untreated, relying on the Patina champ method to keep its patina even coloured as it aged. This method was great at hiding watermarks for the first 3 years (while it darkened slowly) but after that it darkened at a surprisingly rapid pace (which I did NOT like). My Nice Bb & small luggage tag are darkened this way. This time, I would like my bag to darken evenly at a more natural rate

I'm in Canada & found that Collonil Carbon Pro is the best option for this (
Amazon
$24.99). I've used Kiwi sprays in the past but find this much more effective. I hope you find this helpful, especially if you live in climates of intense & unpredictable seasons - heat, rain & lots of snow!
Demo pics: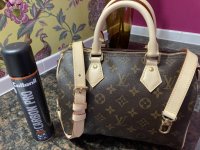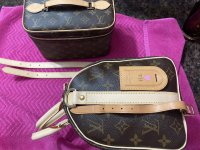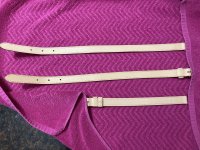 First coating: going back and forth 3 times (30cm angle as instructed). Look is very oily when wet. Shows up more in this process on darker vachetta but both dry down to original 'softer' untouched look. It's invisible when dry & pretty impressive to me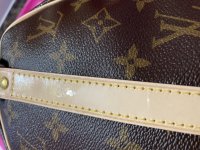 All pieces coated here + 1 fingertip watermark on Speedy lol (from water Qtips to clean hardware). The oily glaze is gone in 15 minutes but I will leave to dry overnight, repeating this process tomorrow.
I'll share the final pics after completion of second coating. Cheers to new LV!