Beautiful brown box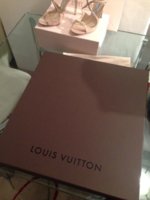 aaaand here it is
my first Neverfull Azur MM in Damier Azur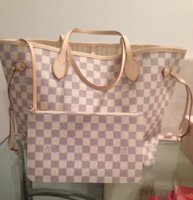 I wasn't interested at all in NF when it first came out (now I am sorry beacuse of such a big price increase since then..) but I realised that it must be something great about this bag since almost every girl on tpf has it

and yes, I was right.
Absolutely adore her.
When I was in the store I also looked an ebene version for autumn but all of them had strange wrinkles on the top of the leather lining and didn't want to buy it.
I don't find Pochette inside very useful (I will sell it but don't know how much it worth - 200 USD maybe, what do you think?) and think that the old version had a little bit nicer lining and font of Louis Vuitton.
I also noticed that this azur bag has a little bit lighter colored blue squares then my other azur bags - Speedy 30 and Pochette NM. What abput yours new Neverfulls?
I almost bought and Evora mm in damier ebene but then the happiness for this one wouldn't be so bi. Decided that Evora will wait couple of months

I bought the same day Jimmy Choo Lance in nude patent and they go soooo well with Neverfull Azur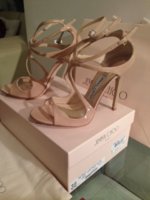 Hope you like it