Mar 16, 1980
17,294
7,107
41
You now have the ability to ignore full forums and threads from showing up in the News Feed, Forum's Thread List and Forum List (on TPF's homepage).
How To Ignore Forums
To ignore a forum, you enter the forum and click or tap the
Ignore
button on top of the thread list. You may then choose to ignore this forum on the News Feed, Thread list, or Forum list.

How To Ignore a Thread
To ignore a thread, enter the thread and tap the
Ignore
button above the first post.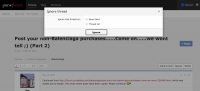 Manage your ignore list
You ignored users, forums and threads can be managed in the
Ignoring Control Panel
in your account settings. There you can stop ignoring forums and threads or go more granular with your selection.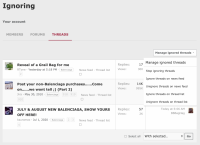 I hope this feature will be useful to you!