I am new to LV, this is my small collection.
My husband let me order a few things before the price increase, and I'm still waiting on one more item. This is what came today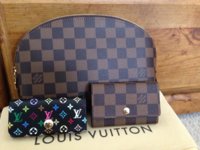 I am waiting on the multicolor cosmetic pouch. I can only keep one key holder and one cosmetic pouch. I really want a SLG in DE and one in MC. I'm leaning towards keeping the DE key holder and the MC cosmetic pouch. Would you recommend doing that? Or would you keep the MC key holder and DE GM cosmetic pouch? Is there a big difference in the cosmetic pouch size? I really only had enough stuff in the GM pouch to fill it about halfway. The MC pouch should be delivered tomorrow. I do not have a LV store by me, so I can only go by pictures and YouTube videos.
Thanks!