I'm starting to love collecting H scarves like everyone else here.
As a start, I've been just choosing from what's available because all of them are beautiful anyway!
But after a few purchases, now I'm really starting to look after certain patterns and CWs.
Now I wanted to add maxi twilly cut to my collection and unfortunately what I like is from the last season. I already own old polka dot maxi twilly so i passed astrologie.
I wanted this maxi twilly grand manege fleuri but I cannot find it anywhere (I'm in europe by the way)
I was gonna pass since it was impossible to get it, but I can't stop thinking of it....
So, what's currently available are these two CWs: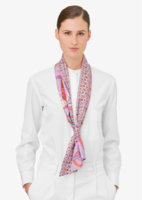 I love the new maxi twillies having different prints for each side and I specially like the back pattern of this model.
My questions are, would past season models like this one ever be out again? If not, should I get different cws or just wait for other beauties? Which cw should I get between two above? To me both seem versatile and don't overlap too much with what I have although I do have a white scarf.
I couldn't decide myself so I thought I should ask experts here!
Thanks for helping me out [emoji847]