Hi Everyone,
My husband and I will be traveling to Ireland in 2 weeks and with the exchange rate, vat and the difference in price I will be saving almost $2,000 on a new Cartier bracelet

. This will be a special piece as it is a reminder of our vacation to Ireland. I need suggestions on what I should get.
So here is my choices
Love in WG with 4 diamonds
Love in YG with 4 diamonds
Juc in WG
Juc in YG
Juc in YG with diamond nail
thin Love in WG & YG
Juc in YG with thin WG love
Thank you so much!!!
Here is a picture of my current stack Tiffany T wrap bracelet and DY.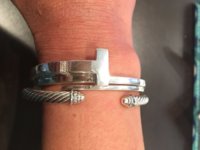 Last edited: