Hi everyone
I'm back!
Thank you to all who posted their
first designer bag story
and I am thrilled knowing that somebody on the other side of the world shared the same experience I had.
(I just forgot to clear things up on my first post. I had my first (second-hand) bag last 2005, which I bought from a reseller, and walked the aisle of LV Manila two years after - 2007)
. Bags can really brighten up a gloomy day.
So moving on... In my first post, I shared to you that I am a proud owner of "Secondhand" bags. I don't deny if a designer or a premium bag was already used by someone whom I don't or do know, or if I bought it from a re-seller's shop (because believe me I know a few who denies if they bought a luxurious thing from a friend who gave them a big discount). Right now on my bag closet, I have 4 secondhand bags which I bought (my first designer bag included - yes it's still with me even though I bought a brand new bag from the same design) and 2 hand-me-down bag from my mom and aunt.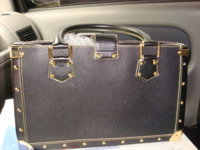 one of my secondhand LV bag
I like second-hand bags because I get a sense of character from it. Some were pretty worn out already but I just like how it looks. I don't like too perfect stuff. And I have this thing with bags that they should never be left in the closet for weeks or months. We need to include them in our everyday travels because I believe what we experienced will be reflected in the bag.
I got this DKNY bag (though not secondhand) which I really love. It's not expensive but it served as my shield during press conferences and stressful working days. The bag was able to carry my netbook, phones, make-up kit, camera, voice recorder, notepads and other stuff everyday. And believe me it also got a lot of compliments from my colleagues because it can carry everything and its not too flashy. My mom told me to use my neverfull once in a big press conference and my friends asked me why I changed my bag when the DKNY was my partner in crime. Now it is being used by my little sister in college and she told me that she also got the same compliments though the bag was a bit old and so last season. I gave it to her already and she's now a proud owner of a second-hand-me-down bag, and believe me she's loving it.
Now its your turn to share if you have any "Secondhand" or "Hand-Me-Down" bags and what you like about it that your still keeping it until now?