Oct 14, 2013
9,207
32,525
I want to thank Forespec and LovLouisVuitton for guiding me through this preloved purchase authentication. From being on here, I know Yoogis has a pretty good reputation, but also that it's good to have any preloved bag double checked so thank you again for doing that!
Lately, I've become smitten with LV and love the Damier Azur canvas. I already like the small satchel shape from other bags I have and so when I saw this Speedy 25 in Yoogi's Closet, I knew my choice between a Neverfull and this was made. (Though, who's not to say I'm not going to start saving for a Neverfull as well!)
Yoogi's was super friendly, answered my questions very quickly and very prompt to get this little pretty to me. I will certainly not hesitate to work with them again.
I've been trying to find some time the last 2 days to take a few pics of it and so here it is...my new to me Speedy 25 in Damier Azur. My favorite clincher is that the date code in the bag contains my initials! It's like it was meant to be!
Outside in the warm morning air...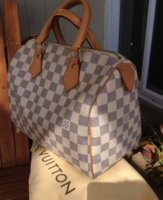 Cutting the tag! (Never gonna put scissors this close again!!!)
Blurry mod shot in the sliding door because I was too lazy to go in!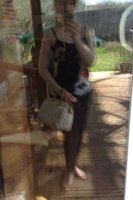 Tucked away with it's brethren...