I only have one pic for now but it's here! - bought it online through liveauctioneers.com.
It's a tad dark but I love that the diamonds sparkle like crazy so it evens out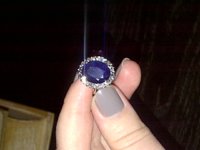 Sapphire is 5 carats, Sri Lankan origins, natural with light heat, saturation is vibrant, tone is medium dark.
With 1 carat total, each stone is 0.14 and H SI1
Last edited: