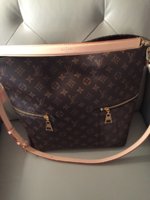 Hi Everyone!
I wanted to share with you my new love that we purchased yesterday! It is so functional and large enough to fit many, many items! The great part is that it has BOTH the shoulder strap and the cross body strap! Something I need right now!
Thank you so much for letting me share!
Here is my new LV MÉLIE Bag!