The UPS Man just made my day! My heart is all a flutter with my new Gucci Lady Web. It's only my second Gucci (began my obsession with a Disco) and I'm in love! I didn't even realize that it comes with two straps, the iconic green/red strap and also a brown suede strap. I'm excited about how versatile this will be.
Here she is, the Lady Web in suede: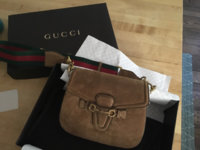 Thank you for letting me share. Also, if anyone has any advice on protecting the suede, please let me know. TIA.