I finally managed to get a grip, take over the BF's bedroom and make a reveal!

So, a year ago I was, like, "There's no way I'll ever cough up 400€ for a LP Cuir because the leather is so flimsy and they're all the wrong size". Then I was, like, "Everyone is raving on about LP Cuir and saying they really love theirs but I still think it's too expensive". And now I'm, like, "HEYY LOOK WHAT I GOT! A brand new LP Cuir!"

I finally took the plunge about a month ago when I found myself wandering at Stockmann's in Helsinki on the day their summer sale started. I saw a lonely little bag sitting among its larger companions at the Longchamp boutique corner and the next thing I knew, I was at the register with a Medium Cuir in Fuchsia (and a Lauren Ralph Lauren Tate Tech wallet to keep her company). I got a -40% discount on both so the price didn't make me weep either. Still won't tell le BF what I paid for them, though...
I got to admit, our first day together with LPC wasn't a nice one; I treated her with a leather balm and it seems she was very thirsty here and so not up for a drink there, so the result was a blotchy mess and I was SO unhappy! In the end, a couple of treatments with Stubben saddle soap did the trick and the color evened out. She got waterproofed at the same time so I needn't worry about rain either which is nice. Because the summer in Finland has 4 seasons.
So, without any more blabber: Here she is!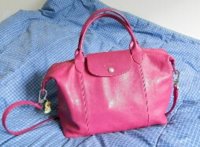 I've been carrying my new friend around for 5 weeks now and couldn't be happier - the size, the color, the look, the way it just fits me is totally perfect! I'm 182,5 cm tall and not anywhere near slim but it still works as a crossbody even for me and when I use the short handles they don't dig into my hands or arms which is nice since I carry a ton of stuff with me, as you can see;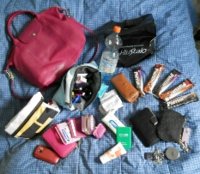 Today we went shopping so I had 2 bag organizers (since one clearly isn't enough for a greedy ***** like me) filled to the brim, a water bottle (that's a 950 ml one btw, to give a little perspective), a pair of socks, a bag with 2 bottles of hair conditioner, 5 protein bars, 2 sets of keys etc etc. That's Tate in the pic next to my phone on the left, I've been using her nonstop since I got her as well and still not feeling the urge to switch out. Money well spent!