I know many of you don't like the new Fendi B-Bags and that was my opinion too. But today I went by a shop window and there it just hit me.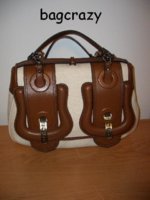 :blink:
It is made of linen and leather which I think takes away a little bit the lady-look and makes it more sporty so that I want to wear it also with a pair of jeans and t-shirt.
Give your honest opinion!