Hello everyone,
Just wanted to share this story and warn others about the desperate lengths some people go to to secure themselves a
Mansur Gavriel
bag.
A few weeks ago I posted a brand new mini crossbody in blue calf leather for sale on
eBay
, I posted it for what I paid plus a markup to cover
eBay
and PayPal fees. My listings are always concise and I try to be as descriptive as possible. Anyways, the buyer contacted me for a lower price and to under declare the item on customs, which I reluctantly accepted. I only did this gesture of goodwill because the buyer was based in South Korean and I assumed that he/she was a sweet innocent appreciator of the brand. (stupid me)
When the buyer received the bag, he/she contacted me and said they changed their mind and wanted a refund. I rejected this request on eBay, so the buyer made a PayPal claim citing "Significantly not as described--bag was used"
I was so livid at this reasoning and did what I could to refute this on PayPal but they decided in the buyers favour, so I had to accept the return.
When I received the return I made sure my partner video recorded me opening the parcel. I opened the parcel and received a COUNTERFEIT BLACK regular cross body in some sort of leather that wasn't vegetable tanned!!! :censor:

Anyways, made an appeal and won so got my money back at least.
This is what I did in order to get win my case (might not work for everyone)
*Take plenty of images of the actual item
*record my packing process and make the parcel look unique (I do this with all high value sales to protect myself from potential claims/scammers)
*record myself opening the return item
*file a police report
*submitted an appeal statement detailing communication history with the buyer, included photos of the item received with measuring tape, comparison photos with a genuine mansur gavriel item, provided a Dropbox link of the video
Hope this helps for anyone considering letting go of any of their designer items
Here's a sample pic the counterfeit, I was quite disgusted when I saw this and not my original bag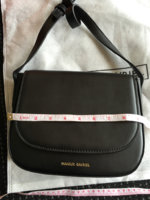 Last edited: