Hi everyone!
I wanted to share my current collection as well as some bags I decided to let go! I'm hoping this will make me appreciate the ones I have and stop wanting buy new bags that catch my eye.
I totally have a problem where I will buy a new bag and never use my others. Then I'll end up buying another in 1-3 months and the last one bought gets added to the closet to sit! So I've picked out my favorites to keep and sold the others. I'm determined to use these until they all fall apart and actually get my money's worth out of them!
I remember in my teens my first luxury bag was a LV Galleria and I USED IT UNTIL IT DIED. I still have it and the vachetta leather is SO dirty (canvas actually nice condition). I remember how many years I carried it everyday and used it as a travel bag. I never babied the bag and it was my constant companion. Planes, trains, beach, etc. With no extra care it looked great for a LONG time! I want to be like that again and USE my bags until they say enough! There will always be something new when the time comes to replace a beat up bag!
The favorites I've chosen to keep:
LV Hawaii Neverfull MM
LV Pink New Wave MM
LV Black New Wave Bumbag
LV Tropical Twist MM
Fendi Fila Bumbag
2x Fendi Bag Bugs
Hermès Petite H Horse Charm
(I think I've found fun/colorful LV to be my choice when it comes to bags )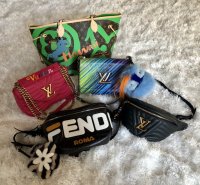 Last edited: