Hi everyone
previously i hardly upload any photos, just enjoy reading other ppl's reveal. Now, i picked up the courage and i feel like showing u guys my precious only LV:
speedy 30 !!!!
YAY!!!
3 months ago, my mum and dad decided to buy one LV for my 21st bday present. since my brother is going Europe to travel, he can get one for me cheaper ~ i was so happy but i do not know wad to choose, (and i havent discover TPF!!! )
my first choice was, burberry, because i saw a girl wear it and it look gorgeous ! so i told my mum that i want a burberry, not LV. then i changed my mind, i start to love LV bags but i just not sure how would they look on me ( there is no nearby LV boutique) so i got panic and just choose anything that comes in my mind. i even chose Ellipse (funny bag -.-) ... sisters suggest that i choose Eva clutch but i am a girl that brings my water bottle everywhere. so i dun think i will get much use out of Eva.
i was very worry that LV bag might not look good on me, so my final decision is Sarah wallet in black MC. and i tell my sister that i really dunno wad to choose, and i am having exam at that time too !!
(in fact i have exam tomorrow... final year, final semester )
so, my sister asked me, "do u like ebene? Azur?
i was like :" i only attracted to monogram...and MC"
so, in the end, my sister picked monogram speedy 30 for me and it was the most gorgeous bag i have ever own!
since then, i start to appreciate LV and love almost every pattern they design.
(my english is not good, hope u guys can understand.... sorry about that )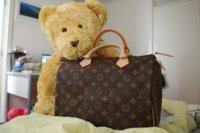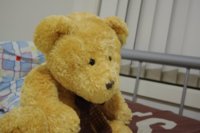 that is my adorable teddy bear from my BF. so cute !
(LOL i am so childish, i am deeply in love with with this bear

)