I have been lusting after a red maxi for quite a while. The 12A red was the one that really made my heart go 'thump thump thumpety thump'. I satisfied that lust by purchasing a wallet. Yes, great, love it... but afterwards realized that the slightly softer caviar was not good for my lifestyle... What to do?
Speaking with a good friend of mine ( you know who you are !) we were on the lookout for a perfect red. She managed to track down a juicy looking red patent jumbo for herself and a maxi for me!!!
The stars were in alignment that day. I had just received my tax refund. Yeah for me!!
I immediately asked for more photos, got it privately authenticated and TAHDAH!!!! It was mine!
I was so eager I opened the box in the ute outside the post office.
I apologize on advance for the horrible pics. My little girl won't let me take photos as she's always grabbing at my phone.
Here she is... My HG - Miss 10C red caviar maxi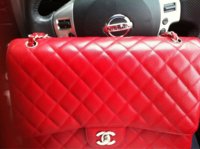 ( in the ute)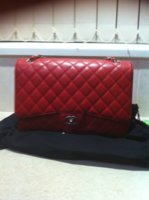 ( under Fluoro lights in the kitchen)
( 10C red maxi , 12A red wallet )
As you can see the colours are 99% identical !! It's only the texture that gives off the colour difference.
Thank you for letting me share