Hermès PurseBlogger!
O.G.
Jun 8, 2007
13,798
26,598
Hi, everyone! I've debated back and forth about sharing this, but....why not?
I live in New York and we've pretty much been on lockdown for 2 1/2 months (well, technically we're in "phase 1", but my teens are home and everything is closed, so I can't tell the difference...)
one of the things I really miss is being out and about. I miss the energy of other people and looking at beautiful things, and that makes me sad. During this time we've been ok and I'm grateful, although at the beginning of lockdown my older son (16) was diagnosed with a medical issue that has required two surgeries on his eyes, each one rendering him blind for a few days and then weeks of recovery (he's fine).
I have had zero experience drawing, but I wanted to start. I figured it would be a fun thing to learn, and then I could create beautiful things to see, even if I couldn't go into a boutique. After cleaning out my entire house, I took over our guest room (which has the advantage of being right by the boys' rooms, gotta make sure they're doing schoolwork) and got some supplies and started.
my first drawing was not very good.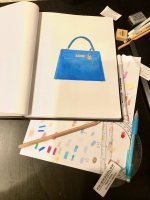 my second one was a little better, but still kinda weird
By the third one, I was starting to use better materials but the proportions were still not quite right.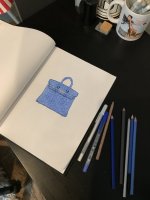 However, by this time, I had learned a few lessons about texture, shading and proportions and I wanted to tackle something that inspired me...so I tried a Himalayan.
Ok, I was happy with that one. But my friend wanted me to draw one of her bags. With a Twilly on the handle.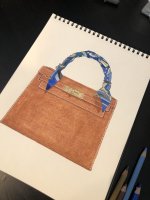 I realized that I enjoyed the challenge of drawing a Twilly, and adding shadows.
But my drawings were kind of floating in the air.
Time to add a background!