hi, since i saw the new bridget jones movie i want to buy a bayswater like her, but in pink.
right now i am watching 2 different shades, this light pink rose shade (pic 1+2) and the rose petal pink (pic 3-5, all 3 pics are the same bag. is that normal that the petal pink looks so different in different light?)
which one would you suggest?
is it hard to keep them clean since the colors are so light?
does anybody own a petal pink one? is it a peachy pink with orange undertones or a cooler pink with blue undertones?
thanks so much for any advice

rose pink (stated as blush pink by the seller)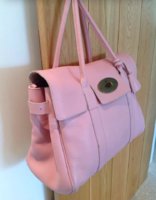 petal pink: