I've been wanting a Mini for a while, but I know they're hard to find. I'd been looking here in the States without much luck. So wasn't really hoping when we went on our trip to Amsterdam that I'd get lucky and find one... BUT I was!
The SA told me that they had just received them that morning. I got to look at 4 square minis: a yellow caviar chevron, a black caviar chevron, a so black quilted calf (?). I wasn't a fan of the yellow and wasn't looking for another black bag, but the so black was pretty tempting... I ended up with something else and it's a perfect pop of color.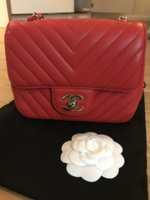 I love the bag, ever since I ssw the bright mini chevron this season, I've been wanting one! So glad I got this beauty!
Unfortunately, there was a slight hiccup. The bag had a loose stitch. I went back to the store the next day, but they hear already sold all the Minis. The SA reassured me they would repair it for me. Considering the savings of ~700 USD prior to VAT return (factoring in the sales tax here), I decided to repair once I got back to the States.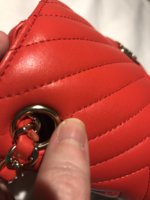 I went to the Chanel Boutique once I was gone and the process was seamless. They even promised me they would try to rush it since I just bought it a week ago. The repair usually takes 4-6 weeks. I just got it back yesterday, about 18 days after I sent it off. It came back just as good as new!
The SA in the States was like... You got this for the price of a WOC here!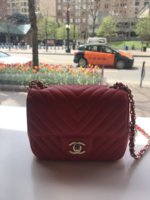 The color is darker due to being in the shade with a bright background. So glad I get to use it in such a beautiful Spring day!
Thanks for letting me share!
Last edited: